>

Electric & Cordless Power Tools
Electric & Cordless Power Tool Chargers
subtel® - UK power supply specialists since 2004
subtel® has been a trusted specialist for all types of power adapters, AC adapters, mains chargers and USB power cables across Europe and the UK since 2004, offering the best quality, reliable, CE, RoHS and FCC-certified high-speed charging leads with UK plug adapters cables for a huge variety of device types.
Each product we sell has been independently tested for performance and quality from our headquarters in Berlin, Germany. Because of this, we offer a three-year guarantee on every single product.
If your original power tool charger or charging station is lost or broken, or you're looking for a high speed and Fast Charging spare or replacement, subtel® will have the right, compatible replacement for you.
★ Fast UK shipping ★ 30-day return policy ★ Expert customer support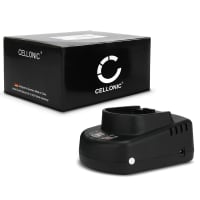 A huge selection of power tool charger cables and adapters
subtel® sells a huge range of cordless electric power tool chargers, charging cables, charging stations and power supply units with UK plug socket adapters for all major brands and model types.
These cordless drill chargers, battery chargers for electric screwdrivers, angle grinders, circular saws, metal saws, sanders, planers, polishers and more for leading brands such as Black & Decker, Bosch, Makita, Dewalt, AEG, Husqvarna, Gardena, AL-KO, Birchmeier, Collomix, Craftsman, Cub Cadet, Dremel, Edding, Einhell, Eisenblätter, FESTOOL, Fischer, Flymo, Haaga, Hitachi, Karcher, LINCOLN, Mafell, Matrix, McCulloch, Medion, Metabo, Milwaukee, Panasonic, Pellenc, Robomow, Rockwell, Rokamat, Rothenberger, Ryobi, Skil, Stanley, Starmix, Steinel, WOLF-Garten, Worx and Würth.
Certified safety and proven quality
All subtel® tool chargers undergo thorough testing to prove they are of optimum quality and are in complete compliance with all European and International safety standards - featuring automatic shutdown safeguards and protection against short-circuits, overheating and overvoltage.
High-speed, fast charging and reliable, our tool power adapters and charging leads with UK plug sockets are made using the highest-quality materials and feature long, flexible break- and kink-proof power cords.
3-year manufacturer's warranty
Our high speed, fast charging AC adapters, battery chargers and power cords for tools are top quality and built to last - durable, strong and tough replacements or spares with tangle- and kink-free charger cords and tight-fitting connector plugs for reliable, long-term use.
Because of this, we offer a 36-month guarantee on all of our chargers and power adapters.
Which battery charger is right for my power tool?
When it comes to choosing a new charger for your power tool battery, your first thought should be on buying a high-quality replacement from a trusted retailer - one that exceeds all international safety standards and features short-circuit, overheating and overvoltage protection and automatic shutdown safeguards. It's better to pay extra for something quality or risk choosing a charger that underperforms and could potentially damage your power tools.
Next, you want to find a charger which is 100% compatible with your tool - ideally one that was specifically designed to be used with it. Whilst some tool battery chargers or charging stations do work with other tools (especially ones from the same brand), this isn't always the case.
The key to finding a new, spare or replacement charger compatible with your specific cordless powertool model is to identify the exact type it requires. You can do this by looking at your old charger - it should be stated somewhere on the underside of the charging station or on the AC adapter plug. Alternatively, you can check the user manual which came with your device.
Once you've found the model number or type of charger you require, you can begin searching for an exact match.
Each of the chargers for sale on our subtel® webshop include a full compatibilities list. There, you'll find detailed information on the brand and model types our replacement controller/console charger cables have been specifically designed to work with - ensuring you always purchase the correct charger.
Reliable power when you need it
If you're looking for a high-quality, high-speed replacement or spare cordless power tool charger with mains adapter, subtel® stocks a huge range of cables, adapters and charging stations - all using the highest-quality components and for reasonable prices.
All power supplies are shipped within the UK from the day your purchase is made and come with a 3-year manufacturer's warranty.
If for whatever reason you're unsatisfied with the quality of our AC adapters, you can return them within 30 days.